This is a Sponsored post written by me on behalf of Crocs for SocialSpark. All opinions are 100% mine.
Beauty is everywhere and you know me I LOVE color. In my running gear I'm like a neon bolt of lightning! Splashes of color are what make our boring world more fun and exciting.  Winning can also make your day more exciting!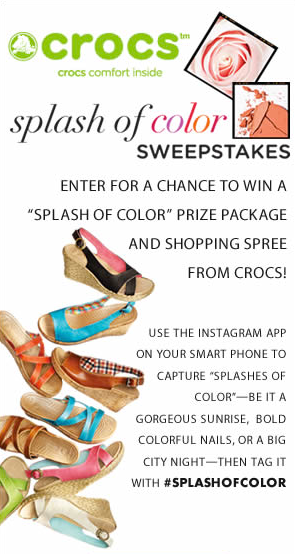 This week I'm excited to let you know about an opportunity from Crocs for a chance to win a $3,000 shopping spree for entering.($3,000 in SHOES sign me up!)  The crocs splash of color sweepstakes is going on NOW through May 20th, to enter participants must connect to their Instagram account through the Sweepstakes page and choose a photo from the stream that is tagged with #splashofcolor. You can upload 3 photos a day.
Color is all around me. I've been filling my instagram feed with the colors I've found. (are you following me on <a href="http://instagram.com/bendifulblog">instagram</a> yet?)
Some beautiful flowers on my walk:
A day of playing with balloons with the  boys:
And of course no busy mom's day is complete with out some coloring:
Colors fill my life and with any luck the #splashofcolor you see in your day can help you win a $3,000 shopping spree from Crocs!
Their sandals are perfect for graduation parties, weddings, BBQ's and more!  My summer scheudle is jam packed with events and as a busy mom I would love a shoe shopping spree. After all a girl can NEVER have too many pairs.
Enter the Crocs #Splashofcolor Sweepstakes for your chance to win! Half of the fun is finding the colors in the world around you.
Question of the Day: What's your favorite color?